A while ago I stared a chart of internal 'doneness' temperatures for beef, pork, chicken, and fish.  You can find the original post here.
In addition to several useful doneness temperatures, I've also included a very handy Celsius/Fahrenheit scale that you can use to convert from one temperature scale to another, that covers a range of -30°C to 370°C (-22°F to 700°F)!  So I guess if your freezer goes lower than that, or your oven goes higher,  you're just out of luck.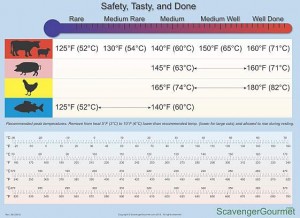 Well, as a holiday gift from me to you, I'm happy to present a free PDF download of the final chart, to print and use in your own kitchen!  Click to download your own PDF Doneness Chart chart (2.5MB).
If anyone is interested in a heavy colour printed and laminated, with magnets on the back, version mailed to them, let me know.  I can make these available for $12 US, including shipping.
Happy holidays to everyone!
Bon Appetite,
Mr. Carnegie, Scavenger Gourmet
P.S., check back soon as I have several new posts in the works!